Morning! Or afternoon or evening depending where you are, but Good Morning this is and I hope you are, too. I have delightful news and long blog post with lots of photos.
Couple of months ago with big hopes I applied a DT post when I saw DT call at
Crafts Galore Encore Challenge Blog
. Today I can proudly present my first DT creation for this funny and warm challenge blog.
Crafts Galore Encore
rules are easy: Our Challenges are for crafters of any medium, as long as it fits the theme! July theme is "Use Stamp or Digi in Your Project". We all love cards and this is something we can say that sky's a limit. Use anything you like, let your imagination fly and join us!
Our wonderful sponsor in July is
Fred She Said
, and this is just a short note from FSS:
Fred She Said Designs offers a wide variety of digital products with a floral flair and cute characters too - Digi's, Pre-coloured images, Papers, Sets, Fred's Flower Kits, and even digital cutting files. Have some fun with Fred!
Very generously Fred She Said is giving a Gift Card for $15 to spend on FSS goodies in the shop!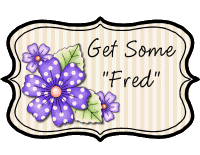 Here is my card (box card), and I used Fred She Said digital stamps
Emma and Rosie
and also a freebie from year 2010 called Flower Pot,because flower pots were like made for this bench where Emma and Rosie are sitting, don't you thing?
This project was fun and dead easy. First I coloured the stamp, then measured how big the box should be, then I took a piece of card and made the box and drawer. Glued all together, all roses made by me. This is suppose to be very girly and I think it is.
Materials:
Digital stamp - Fred She Said
Colourine - Spectrum Noir Pencils
Die cuts - Sizzix
Roses punches - Tonic Studios
Lace, ribbon, pearls - all stash
Challenges I would like to join:
Crafting From The Heart - Challenge 25 - Anything Goes
The Pink Elephant - Challenge 257 - Anything Goes
Bearly Mine - July Challenge - Let's Go Digital
Ladybug Crafts - Anything Goes
Through The Craft Room Door - 1st-7th July - Anything Goes
Inky Impressions - Challenge 165 - Anything Goes
Ruby's Rainbow - Challenge 82 - Stamping
Simon Says - Anything Goes
The Stamping Chef - Challenge 35 - Anything Goes
Crafty Catz - Challenge 237 - Anything Goes
Crafting At The Weekend - Challenge 3 - Anything Goes
Scribble And Scrap - Challenge 21 - Always Anything Goes
Suzy Bee's - Challenge 35 - Anything Goes
Digi Makeover Challenge - Butterflies
Sparkle n' Sprinkle - Anything Goes with Glitter, Embossing Powder and/or Flocking
Stamps & Fun - Flowers and Pearls
Now it's your turn. Welcome and have fun!